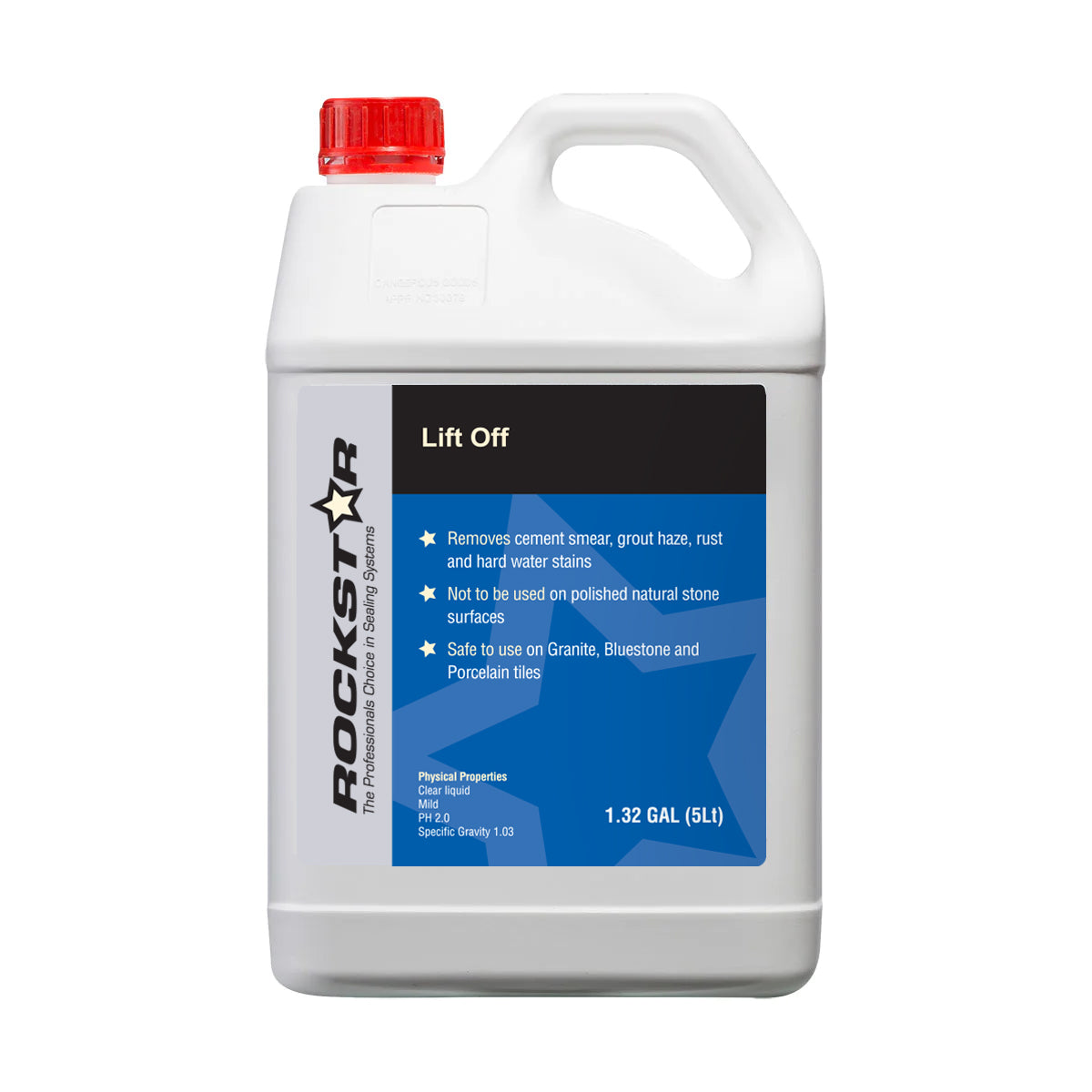 LIFT OFF
Pickup currently unavailable at 6185 North Conquistador Street
6185 North Conquistador Street
Pickup currently unavailable
6185 North Conquistador Street
Las Vegas NV 89149
United States
7027782272
Rockstar LIFT OFF is an acid based cleaner formulated to remove grout stains, cement haze, lime deposits and efflorescence. Do not use on ACID SENSITIVE natural stones. Such as Limestone, Marble, Terrazzo and polished porcelain.
USES
Use LIFT OFF to clean Bluestone tiles, Porcelain tiles, Concrete Pavers and ceramic tiles.
DO NOT use on acid-sensitive substrates such as Limestone, Marble, Terrazzo and polished porcelain.
BENEFITS
Dissolves cement-based haze and residue.
Safer to use than Hydrochloric acid
No fumes
Can be used to remove rust
PROPERTIES
Appearance and colour………………………………… Colourless liquid
Specific Gravity (Water = 1)…………………………… 1.22 g/ml
Boiling Point………………………………………………. 100oC
Solubility in Water……………………………………….. Miscible
pH……………………………………………………………… <2
Flash Point………………………………………………….. Non-flammable
APPLICATION INSTRUCTIONS
Always use rubber gloves and protective goggles when using this product
Read the instructions carefully
Always apply first to an inconspicuous area to gauge the suitability of this product for your substrate.
Pre-wet the surface with water before application.
Dilute

 

LIFT OFF

 

with up to 4 parts water depending on the degree of cleaning required.
Apply the diluted solution and allow it to contact the surface for 3-5 minutes after which the surface should be agitated with a doodle bug or scrubbed with an buffing machine. 

 

Do not allow the solution to dry on the surface.
Mop or wet vacuum the surface to remove slurry. Rinse thoroughly with clean water to remove any excess cleaning solution.
PRECAUTIONS
This product is corrosive!
Avoid contact with skin and eyes by wearing suitable protective gloves and eyewear.
Use with caution around metal surfaces, carpet and rendered cement surfaces
CLEANING
Clean all equipment with water.
PACKAGING
LIFT OFF is available in 5 and 20 Litre Containers / 1.32Gal / 5Gal.
STORAGE
Keep container tightly closed when not in use. Store in a cool, dry place out of reach of children.
SAFETY
Classified as Hazardous according to criteria of Worksafe Australia. For further detailed information refer to Safety Data Sheet.
DISCLAIMER
The advice and information contained herein is based on our best knowledge of the product. We believe the information to be accurate and reliable as at the date supplied, but no representation, guarantee or warranty, expressed or implied, is made to the accuracy, reliability, or completeness of the advice and information. We urge persons receiving this advice and information to make their own determination as to the advice and information's suitability and completeness for their own particular situation. When in doubt it is always prudent to perform a trial on a scrap section of material, or inconspicuous section of the job to ascertain the products suitability.
Additional information



Technical Data Sheets
Please access the product information sheet and Material Safety Data Sheet (MSDS) below: